Written by: the bay citizen
Category: Energy
Published: January 17, 2017
Socially and politically, 2016 was a momentous year for Britain. It was also a record breaking year for energy and the environment, but thankfully for all the right reasons, write Grant Wilson of the University of Sheffield and Iain Staffell of Imperial College London. Britain's electricity was the cleanest it had been in 60 years, as coal collapsed and renewables rose to record levels. Courtesy of the Conversation.
Great Britain's annual electrical energy mix. Author calculations: data source National Grid and Elexon
In 2016, just 9.3% of British (not UK – as Northern Ireland is calculated separately) electricity was generated from coal, down from more than 40% in 2012. This is the lowest share coal has ever provided in the system's 100-plus year history, and the lowest absolute quantity burnt since the start of World War II.
In fact, at 10.2% of generation, wind farms produced more electricity, a significant milestone in Britain's low-carbon transition. Natural gas has picked up most of the slack and posted its best year since 2010; but nuclear, solar and biomass are all also on the rise.
British electricity generation by source. Note the drop in coal and the emergence of wind. Author calculations. Data source: National Grid and Elexon
The demise of coal means British carbon emissions from electricity generation have halved over the past four years. This is not greenwashing or creative accounting. When factoring in the emissions released abroad from producing electricity and biomass that is then imported, Britain's electricity sector released 82.4m tonnes of CO2. The last time annual emissions were below 100m tonnes was back in 1955.
Great Britain's power sector carbon emissions since 1920. Author calculations. Data source National Grid and Elexon
Emissions were 25% lower than in 2015, so changes in the electricity mix mean that each Briton effectively produced 400kg less CO2 – without lifting a finger. The carbon content of a unit of electricity has fallen to 277 grams per kWh, beating the strict pathway set out in the Climate Change Act's Carbon Budgets by up to four years.
Other milestones
The coal collapse led to a number of other milestones being reached, including solar generation being greater than coal over the months of May, July and August. For the first time since the national grid was established in the 1930s, there were times with no coal generation at all. After first occurring on May 10, there have now been 200 coal-free hours. Scotland's power sector is now entirely coal free, after its last station at Longannet closed in March.
Electricity demand continued its downwards trend, and now stands 20% lower than its 2005 peak, despite the population rising by 5m in that time. Demand is therefore back to levels seen in the late 1980's, which also contributed to reduced fuel burn and reduced emissions.
Wind had a solid year, but annual output fell slightly as the number of storms of late 2015 were not repeated in the 2016 winter. Additional wind farms were deployed, and Britain's capacity reached a new high of 14.33 GW. This meant that, during Storm Barbara just before Christmas, wind was able to set new records for weekly, daily and hourly output, peaking at 5.30pm on the December 23 when it generated 10.7 GW of electrical power (nearly a quarter of the national total at a peak time of day and year).
Solar also had a solid year, with installed capacity surpassing the 10 GW mark, despite fears about subsidy cuts. Throughout the year it amounted to 3.2% of all British output, though at its peak on May 12 it nearly reached 20%.
Biomass also posted its highest ever output at 14,198 GWh over the year, up 25% on 2015, and almost double its output in 2014. Output should continue its upwards trend now that the third coal unit at Drax power station in Yorkshire has permission to be converted to biomass (this means it will burn wood pellets imported from the US – a practice more sustainable than it sounds).
Renewables have seen a dramatic rise in Great Britain, with just over 28 GW of wind, solar and biomass installed – around 1 kW for every household. This is five times more than just five years ago, and as of December 2016, Britain has more renewables (combined) than any other type of generation, beating even gas turbines.
Putting together renewables, nuclear, and imports from France (which are almost all nuclear and hydro), Britain hit the milestone of supplying more than half its electricity from low carbon sources in the summer of 2016, up from 20% in 2010.
It seems Britain's low-carbon transition is proceeding at full force. Renewable capacity and output are breaking new records, a combination of carbon taxes, fuel prices and clean-air legislation have forced coal down to levels not seen for two generations, and demand is falling thanks to improving energy efficiency. After a decade of relative stagnation in the 2000s, the 2010s have marked a dramatic shift, resulting in emissions halving in just four years. A bit of good news to start 2017.
The data used in this article is based on the Energy Charts and Electric Insights websites, which allow readers to visualise and explore data on generation and consumption from Elexon and National Grid. Data from other analyses (such as BEIS or DUKES) will differ due to methodology, and particularly by including combined heat and power, and other on-site generation which is not monitored by National Grid and Elexon. Our estimated carbon emissions are based on Iain Staffell's research published in Energy Policy, and account for foreign emissions due to electricity imports and biomass fuel processing.
by Grant Wilson and Iain Staffell
Grant Wilson is Teaching and Research Fellow , Environmental and Energy Engineering Research Group, Chemical and Biological Engineering, University of Sheffield.
Iain Staffell is Lecturer in Sustainable Energy, Imperial College London.
This article was first published on The Conversation and is republished here with permission from publisher and authors.
Original Post
Let's block ads! (Why?)
Written by: the bay citizen
Category: Energy
Published: January 16, 2017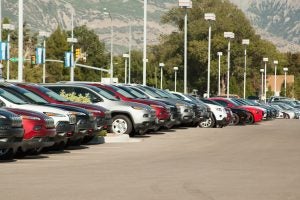 The past couple of weeks have seen a whirlwind of announcements related to the U.S. auto industry.
The century-old industry has been hailed as the fastest U.S. job creator – expanding payroll by "nearly 35 percent" in recent years. Manufacturers have introduced dozens of new, fuel-efficient models. Technology companies and automotive manufacturers are collaborating more than ever to add features, and to get the world ready for self-driving vehicles.
The need for climate action has been a critical driving factor in each of these trends.
The Clean Car Standards have been focusing auto industry investment and innovations since they were finalized in 2010. Over that time, the automobile industry has made a dramatic return to profitability and added jobs – all while exceeding the Clean Car Standards. The industry has also started to bring to market a new generation of fuel-saving solutions.
Confirmation of these trends could be found at the recent Consumer Electronics Show and the Detroit Auto Show, where manufacturers paraded out their latest developments.
Ford stated that it expects sales of electric vehicles will overtake sales of gas-fueled vehicles within 15 years. Ford showcased its ability to improve conventional vehicles by unveiling the 2018 model Ford F150 – the best selling vehicle in the U.S. – with options for a more fuel efficient 3.3 liter six cylinder engine and automatic stop-start technology. It also announced new hybrid versions of the F-150 and Mustang by 2020. The company promised a new fully electric SUV vehicle with 300-mile range by 2020.
General Motors (GM) celebrated having the fully-electric, 238-mile range Chevy Bolt awarded the North American Car of the Year or Truck of the Year. The Chevy Bolt was previously awarded Motor Trend Car of the Year. The Bolt, which came to market last month, is also at the center of GM's work on self-driving vehicle technology
Nissan announced a new generation of its LEAF electric vehicle, with "autonomous drive functionality" for highways.
Honda publicized its plan to introduce a new, U.S.-made hybrid vehicle in 2018 and roll out its Clarity Electric and the Clarity Plug-In Hybrid vehicles.
Toyota appointed its president (grandson of the company's founder) to lead their newly formed electric car division, in an effort to "speed up development of electric cars."
Volkswagen – unveiled a prototype electric van capable of a 270-mile range and with room for eight-passengers. The company has committed to have at least 25 percent of its global sales be electric vehicles by 2025.
Samsung introduced a new lithium-ion battery cell for electric vehicles. The battery promises over 350 miles of range and a 20-minute fast charge. The battery is slated for production in 2021.
Tesla declared that its gigafactory for battery production was open for business. The Reno, Nevada facility already employees almost 3,000 workers, and is ultimately expected to employ 6,500 in full-time positions.
Mercedes announced in Paris last year that electric cars would account for 25 percent of the company's deliveries in 2025, backed by plans to invest $ 1.1 billion in battery technology.
As these developments show, automakers and their suppliers are investing and bringing to market clean vehicle solutions beyond what even the Clean Car Standards require.
These companies are making these investments because there is a robust domestic market for clean cars. Electric vehicle sales in the U.S., for example, were up more than 50 percent in the second half of 2016 (compared to 2015).
Companies are also making these investments to stay competitive in a global race that will define the next chapter of mobility. GM, for example, had a third of its global sales in China in 2016. China is the largest market worldwide for electric vehicles and plug-in hybrid electric vehicles, and if U.S. automakers want to be competitive there they will need to stay on the leading edge of the technology curve. Autotomy and electrification will be the hallmarks of this new, global chapter.
By driving more investment in future offerings, the Clean Car Standards help position U.S. manufacturers to win this race at home and abroad.
This perspective was recently voiced by the United Auto Workers, which noted:
"Our competitors around the globe are working to strengthen environmental standards and it would be counterproductive to enact policies that provide disincentives for investing in advanced technologies and improving efficiency. History has taught us that a diverse fleet is essential for strong export sales and keeping jobs in the United States. Efficiency and emission standards can and must continue to be a win-win for the environment, working families, domestic manufacturing and the overall economy."
We couldn't agree more.
By Jason Mathers
Original Post

Let's block ads! (Why?)
Written by: the bay citizen
Category: Energy
Published: January 14, 2017
December was a big month for building efficiency in U.S. cities. The cities of Orlando, Los Angeles and Denver have adopted policies that double down on the power of information through building energy and water benchmarking.
As with setting successful New Year's resolutions, you have to know where you are before you can determine where you want to go. You can't manage the success of your building's energy and water performance if you don't first commit to measuring them.
This is exactly the lesson that these three cities—and the 19 other U.S. cities and counties that are working with private sector building owners to actively monitor and manage energy and water use—have demonstrated this holiday season.
Orlando, Florida
December's first mover was Orlando. On Dec. 5, with tremendous hard work and support from USGBC Florida, the City Commission unanimously passed the Building Energy and Water Efficiency Strategy (BEWES) ordinance. The new law commits existing commercial, institutional, multifamily buildings larger than 50,000 square feet to tracking whole-building energy use. They will do this via Energy Star Portfolio Manager and annually report the data. In addition, those buildings with scores under the national average will complete a free energy audit through the local municipal utility once every five years.
Notably, the Orlando policy covers less than 5 percent of Orlando's buildings, which account for more than 50 percent of total energy and water used by all buildings citywide.
"It is USGBC Florida's goal to make compliance easy, and to knock success metrics out of the park for Orlando and the several other Floridian cities considering similar ordinances," said USGBC Florida's director of policy and programs, Sarah Boren. Learn more about the ordinance and USGBC Florida's work to support its successful passage.
Los Angeles, California
Next came Los Angeles, on the heels of another great Greenbuild celebration. On Dec. 13, the L.A. City Council adopted the Existing Building Energy and Water Efficiency (EBEWE) ordinance. It was signed into law by Mayor Garcetti two days later. The ordinance commits buildings in the city over 20,000 square feet to benchmark annual energy and water use and to make this information public. The city commits to help owners better manage their buildings by providing meaningful comparisons.
At least once every five years, buildings will be required to take efficiency actions, such as energy audits or retrofits to reduce energy and water use. USGBC Los Angeles was an active participant in the nearly two years of stakeholder engagement that led to the ordinance. The stakeholder group steered the new policy's development to align with complementary state policies that USGBC has been supporting in Sacramento.
In the mayor's press release (that pictures USGBC Los Angeles director Dominique Hargreaves immediately to the Mayor's right), Councilmember Bob Blumenfield commented, "By working collaboratively with our city's largest consumers of resources, we are creating a force multiplier that will reduce overall energy and water use while saving businesses and taxpayer money."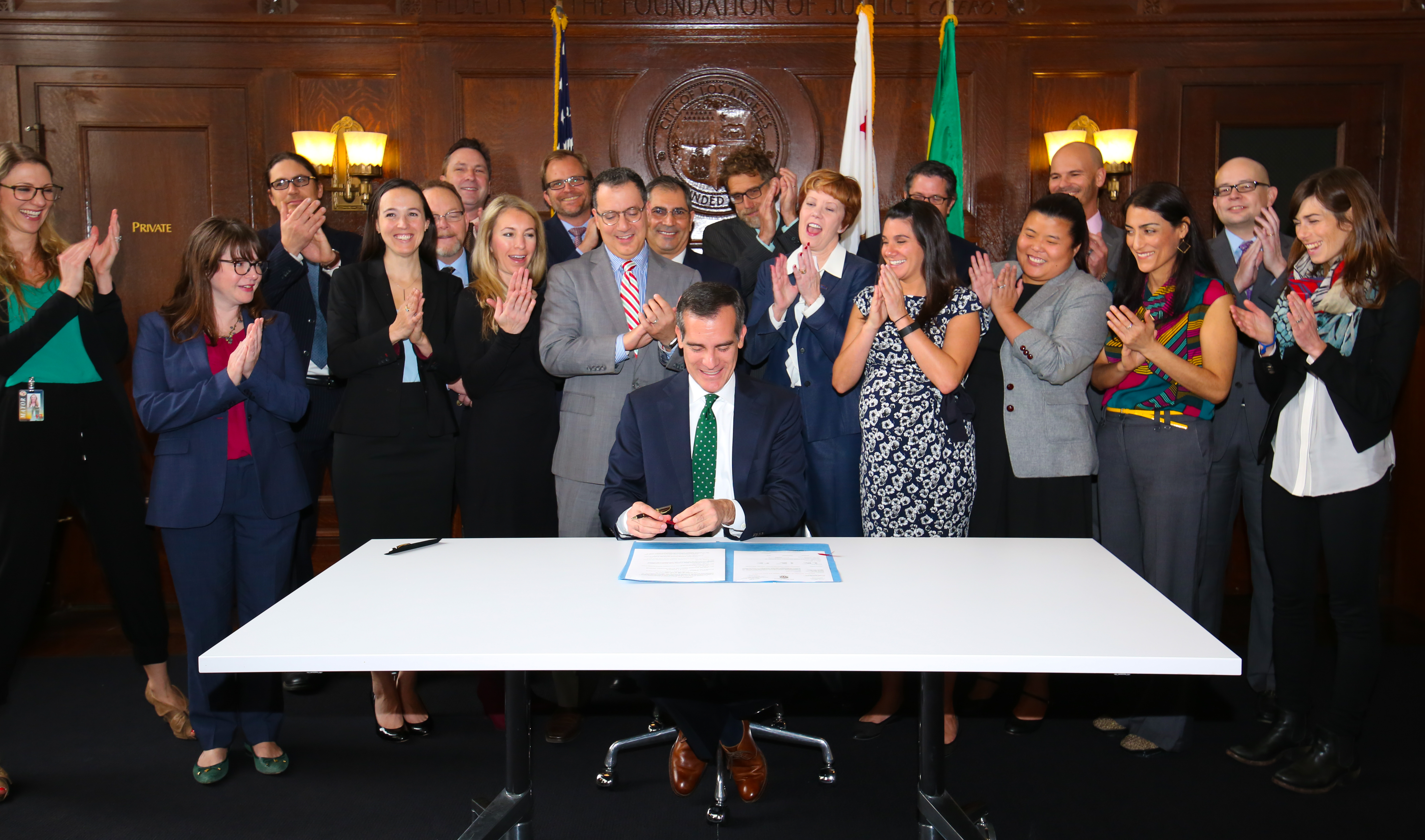 Mayor Garcetti signs the EBEWE Ordinance requiring annual energy and water benchmarking. The team that made it happen includes USGBC Los Angeles, BOMA Greater Los Angeles, Global Green, the L.A. Better Building Challenge, the Department of Water and Power, the Department of Building Safety, and the Mayor's Office.
Denver, Colorado
Denver joined the club on Dec. 19, as the Denver City Council unanimously passed an ordinance that established the Energize Denver program. The new law commits commercial and multifamily buildings over 25,000 square feet to tracking, reporting and disclosing their Energy Star score, with a phased implementation over the next two years.
In a press release, Mayor Hancock emphasized that "Local actions can have global impacts, and Denver will join with cities across the world who are taking positive steps to make their cities more resilient to our changing climate."
According to the city, energy use from heating and cooling in buildings is the single largest source of greenhouse gas emissions in Denver, making up approximately 57 percent of Denver's carbon emissions.
The ordinance followed an 18-month stakeholder process led by Denver's Department of Environmental Health, with active participation from USGBC Colorado. In a recent article in the Denver Business Journal, USGBC Colorado director Patti Mason summed it up: "Public policy that requires buildings to begin measuring, monitoring and managing energy unlocks critical information that can drive smart, targeted investments."
Who's next?
December was a big month for building efficiency, but what will January bring? Has your city committed to benchmarking for its New Year's resolution?
USGBC looks forward to our continued partnership with cities across the country to support green building policy in 2017.
Original Post
Let's block ads! (Why?)