Written by: the bay citizen
Category: Energy
Published: July 23, 2016
In 2016, nearly 300 megawatts (MW) of electricity generating capacity is expected to come online from dams that did not previously have electric generating units, commonly referred to as nonpowered dams (NPDs). NPD capacity additions make up 92% of the 320 MW of planned hydroelectric capacity for 2016. Expected capacity additions at NPDs in 2016 are large compared to recent NPD additions, which totaled 126 megawatts (MW) over 2006–15, but relatively small compared with total U.S. hydroelectric capacity of nearly 80,000 MW as of April.
The National Hydropower Association estimates that 3% of the nation's 80,000 dams currently generate electricity. Existing conventional hydroelectric generators in the United States provided 251 million megawatthours of electricity in 2015, or about 6% of annual total net generation. Unlike other forms of renewable-fueled electricity, such as solar and wind, hydroelectric capacity additions have been relatively modest in recent years. Also, about 1,000 MW of hydroelectric capacity has been decommissioned over the 2006–15 period, mainly through the removal of existing dams. New conventional hydroelectric generators may not be eligible for federal tax credits, unlike new wind and solar additions. Depending on the state, hydroelectric generation may not be eligible for compliance with state renewable portfolio standards or voluntary goals.
Although electric generating units have been installed at NPDs throughout the country, the Ohio River accounts for much of this activity. About 74% of all the new and planned NPD capacity additions from 2006 to 2016 occurred along the Ohio River. Many of the existing dams along the Ohio River that have been or will be converted to produce electricity are used to maintain navigable depths during periods of low water flow.
In a study of hydroelectric potential at NPD, the U.S. Department of Energy (DOE) estimated that as of 2012, NPDs had the potential to add 12,000 MW of additional generating capacity, with about 3,000 MW of capacity in the Ohio River region alone. Since then, four NPD projects have begun construction: Cannelton, Meldahl, and Smithland in Kentucky, and Willow Island in West Virginia. Once these projects are completed, the total hydroelectric capacity along the Ohio River will increase by 313 MW to a total of 554 MW. As a result of these NPD capacity additions, Kentucky and West Virginia will increase their hydroelectric capacities by roughly 32% and 15%, respectively, in 2016.
The DOE study only assessed technological potential based on the energy density of the water flow at certain stream segments across the United States. The study did not address the economic, regulatory, and political hurdles that may affect actual development of hydroelectric projects.
Principal contributor: Alexander Mey
Let's block ads! (Why?)
Written by: the bay citizen
Category: Energy
Published: July 22, 2016
The United Kingdom was once a world leader in energy savings. We proved that investing in buildings, insulating lofts, and switching to efficient boilers, motors, and lighting created jobs, saved money, and lowered the environmental costs of energy systems. But in recent years we have turned our back on our own evidence, reducing the breadth and depth of energy efficiency programmes.
In this less ambitious scene, the government has finally revealed its plans for the next phase of the Energy Company Obligation (ECO). Happily, the new version contains some important design improvements over earlier plans. Unhappily, the programme as a whole is still too narrow and too small, failing to deliver bill savings to the vast majority of UK households (businesses remain unserved too).
Here is a quick summary of the new changes to the ECO for energy savings:
Lower ambition, narrower target: From 2017 onwards the current expenditure for ECO of £870 million per annum will be reduced to just £640 million, a 26 percent cut. Since efficiency is our lowest-cost clean energy choice, this reduction in effort is a false economy, but it was expected—in the Spending Review and Autumn Statement 2015, the former Chancellor set out his plans to reduce the spending for ECO. The other key change is a shift from delivering savings across all types of households towards addressing households in fuel poverty alone—the budget for the fuel poverty related target of the future ECO will be increased by 45 percent to £450 million per annum. After 2018 all ECO spending is supposed to be allocated to fuel poverty alleviation.
Better programme design: As always with efficiency programmes, details matter, and the design of ECO will change in some useful ways. The government will return to using predetermined savings estimates (called deemed savings) for energy efficiency improvements, an approach that RAP has long advocated, since it lowers administrative costs whilst still providing confidence that real savings are being delivered. In addition, energy efficiency measures in social housing with an energy performance certificate (EPC) rating of E or below are planned to be included, which will increase the targeting efficiency of the programme. Both of these changes are steps in the right direction, both reducing costs and increasing the targeting efficiency of ECO when it comes to fuel poverty.
In a nutshell, the overall ambition of ECO is being reduced, but the design will improve and be more in line with the "keep it simple principle" that is so important for effective Energy Efficiency Obligations. We support most of these design modifications and have argued for many of them over the years. However, the overall target for ECO and the level of investment is insufficient to meet our national targets both on fuel poverty and on carbon reduction.
Why are we stuck in this debate? The government's main argument for reducing ECO spending is affordability, as some of the costs of efficiency programmes end up in consumer bills. But since investing in cost-effective efficiency actually saves more than it costs, that arithmetic is upside-down. Investing in efficiency does cost something, but so do investments in power stations, transmission upgrades, capacity requirements, and gas imports—and the supply-side options cost even more. More ambitious ECO targets for energy suppliers have generated significant net-benefits to consumers, both to those who directly participate in the programme and those who do not. A narrow focus on the cost of Energy Efficiency Obligations such as ECO is misleading, since the benefits on bills as well as the benefits in health, environment, and energy security outweigh the programme costs. This conclusion is supported by previous analysis by the Department of Energy & Climate Change (DECC) which concludes that "in 2020 households are estimated on average to save around 11% […] on their energy bills compared to what they would have paid in that year in the absence of policies."
However, this analysis was made before the current government announced plans to reduce spending on energy efficiency programmes. In the autumn of 2013, the consensus that rising energy prices are best addressed by improving energy efficiency started to break and the exact opposite became government policy. Interestingly, in the past, and in many other places around the world, rising energy prices were a trigger for increasing energy efficiency spending—academic analysis shows that the target of CERT, the predecessor of ECO, was increased by 20 percent in 2009 following wide-spread media coverage of rising energy prices and windfall profits made by the energy companies.
The new Prime Minister recently said she wants "to see an energy policy that emphasises the reliability of supply and lower costs for users." The cheapest and most effective way to achieve this is investing in energy efficiency. We know how to do this from several decades of experience. Now is the time to get serious about energy efficiency and launch an ambitious national programme that helps us achieve the new Carbon Budget, reduce bills, and stimulate the economy in times of uncertainty.
The post We Need a Lorry-Load of Energy Savings; in the new ECO, the Government Delivers a Hatchback appeared first on Regulatory Assistance Project.
Photo Credit: Martin Abegglen via Flickr
Let's block ads! (Why?)
Written by: the bay citizen
Category: Energy
Published: July 21, 2016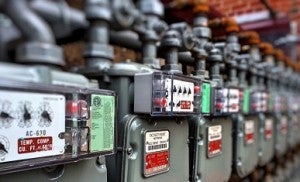 We all know exercise is good for our hearts and bodies, and who doesn't enjoy stepping on the scale after weeks of good workouts to confirm progress was made?
In a way, power companies are just like people.
As they begin to invest in smart meters and other grid modernization efforts, utilities want to know how well they do. Are grid programs fulfilling environmental promises and cutting pollution? Can they measure success and prove to investors and regulators they're making smart decisions?
To that effect, Illinois' largest electricity provider, Commonwealth Edison, is the first in the country to adopt a new tool that calculates clean air benefits from investments such as advanced meters.
Beyond bringing tangible rewards to ComEd, this little-noticed milestone can have major implications for the entire power industry.

$ 2.6 billion for smart grid paved way
After Illinois passed the Energy Infrastructure Modernization Act in 2011, channeling $ 2.6 billion to ComEd to modernize the grid, the company began to replace customers' conventional electric meters with advanced meters. The new devices make it easier to provide energy savings programs and other clean energy services, while helping the utility reduce outages.
The company is now more than half-way there, having deployed more than 2 million meters across its territory, along with other sensing and control technology.
This is where the first-of-its kind metric comes in.
ComEd started to use the measurement tool earlier this year to calculate and report greenhouse to state regulators gas savings from its new and advanced energy infrastructure. It was developed in collaboration with Environmental Defense Fund and the Citizens Utility Board, Illinois' premiere utility watchdog.
The initiative serves, in essence, as a pilot project for other power companies that share ComEd's objectives to build a modern grid and be held accountable to investors and the public they serve.
This metric…does what, exactly?
By determining the carbon value of a kilowatt-hour of electricity for all 8,760 hours in a single year, the new metric can pinpoint how much pollution the advanced meters are keeping out of the air.
For example, when power comes from high-carbon coal, using a kWh of this electricity results in more carbon pollution than when power is coming from mostly low-carbon wind or solar.
Advanced meters can also open the door for numerous clean energy and smart grid tools, such as energy efficiency and demand response, which rewards customers for conserving electricity when the grid needs it most. The metric will be able to track the greenhouse gas reductions associated with all of these efforts, and more.
Rewards too good to pass up
As ComEd continues its advanced meter rollout, the utility hopes to be rewarded accordingly. Illinois offers higher earnings for utilities that show they're meeting the goals of the state's grid modernization plan.
As the company gains more experience with the metric's use, it will also be able to incorporate the findings into future plans and make more informed investment decisions going forward.
ComEd may be first out of the gate with this innovative tool, but it probably won't be the last in our growing clean energy economy.
By Dick Munson, Director, Midwest Clean Energy
Original Post
Let's block ads! (Why?)